Kilka moich spostrzeżeń na temat niniejszego agregatu. Szukałem czegoś relatywnie taniego i z sensownej jakości prądem na wyjściu. Szukałem czegoś powyżej 2,5kW by zasilić piłę (lub inne narzędzia w garażu).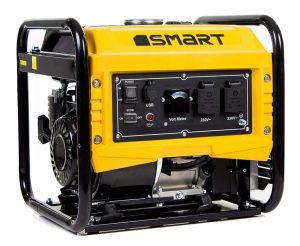 Oczywiście najbardziej cieszył bym się z jakiejś porządnej Yamahy lub Hondy, a już zupełnie z dobrej instalacji fotowoltaicznej i akumulatorów LiFePo4, ale.. no nie ma warunków 🙂
Tak czy siak, Yamaha to dużo ponad 4kpln a taki Smart "tylko" 1,6kpln.
Generator działa – to pierwszy plus :), przetestowałem go do 2000W na silnikach szczotkowych – daje rade.
Działają zasilacze (laptop, modem, kamera), piły i kompresory – zarówno na silnikach szczotkowych jak i indukcyjnych.
Niestety wahania napięcia są wystarczająco duże, by było dostrzegalne miganie oświetlenia diodowego (jarzeniowe – mniej).
Jedyne co nie potrafiło pracować na nim w warsztacie, to przełączniki Sonoff (zwykłe S26 i x4) – ciągły reset, próbowałem zwiększyć im kondensatory na 5V – nie pomogło
Jakość sinusa jest przyzwoita (ale daleka od "sieciowego" czy z inwertera sinus), wypełnienie i okres również – poniżej zdjęcie z oscyloskopu.