What are the symptoms?
After a year or two (but not heavy usage – mostly lying around) speaker was unable to charge to 100% (also charging never finished) and Bluetooth showed at best 90%. Immediately after charging disconnect, it dropped to 60% or even less. While playing, it could barely withstand 30min of playback.
Wild guess would be the battery issue – I've assumed that manufacturer used some crappy lithium cells and that how it ended. I can't confirm or deny this now – since definitely, by how they where charged, it damaged them a bit  – but they seems to be around 2500mAh, so decent.
So what is/was wrong?
Speaker have four 18650 lion cells, grouped by two. This gives around 7,4-8V total. Contrary, to what I've supposed before dissembling it, it had 2S lion protection board installed (on the first battery pack, under the shrinking tape) but it's missing balancing feature. So one pair was charged to 4,4V and another was 3,3V. BMS (let's call it this way for now) was cutting charging off (overcharge protection of one pair), but never reached top voltage (so charger IC was still trying to charge it – it's a separate component on the main board – not on BMS). The other pair was all the time undercharge and quickly dropped to undervoltage protection, that's why speaker could only play 30min or less.
In theory, if the cells are equal quality and used proportionally – this unbalancing could not have happened or took much longer time. But usually designers do some shortcuts (this is often in power cells for hand held devices – drills etc) and sometime power the low current BMS electronics with only one pair of batteries – because it's easier – pushing cells to imbalance (I've seen this behavior in few Parkside and Makita devices). This is just an example – but it shows the idea.
Fix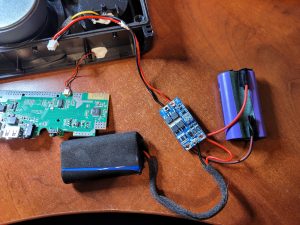 So what it takes to fix the issue, is to use BMS with cell balancing and replace broken cells. In my case one of four cells where totally broken (unable to fully charge and was loosing charge).
I've used HX-2S-JH20 BMS board – plenty of those on Aliexpress for few bucks – because I had it at hand.
Oh and I forgot to mention – I have two of those speakers, and both face the same issue – so it's not a fluke 🙂