After some experience with controlling my ceramic kiln with Linux over cron scripts, I've moved to Chinese PC410 controller. But (probably) because it was knock off, it had removed plenty of useful features (you can read about it, in Polish here) I've decided to do my own controller.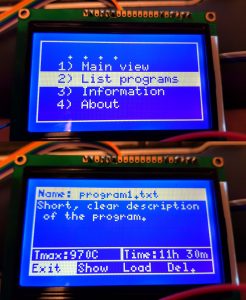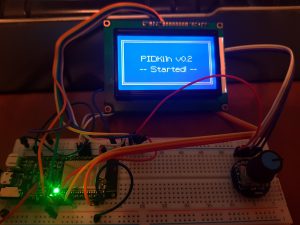 I've looked around Internet for existing solutions, and found one – interesting enough, but still lacking very important future for me – Internet connectivity. I need to be able to monitor my kiln overt network, see what's going on and be able to turn it off.
So this is how it came to life my controller – based on ESP32 chip, feature rich PID controller for kiln, with network connectivity, local LCD display and all possible safety features I needed.
You can download project sources from github and build your own. All required information you will find there. Here I'll show how to build it in step-by-step process.
What's done already (updated 19.09.2019):
All common procedures and functions for LCD, input (encoder) and Webserver
Program handling like upload, delete, show
Program loading to memory and full sanitization
Preference handling, information screen, and graphs for WWW a tiny for LCD 🙂
MAX31855 + thermocouple readout and handling
What needs to be done:
PID control – now work in progress
testing… testing… and 🙂