Since this was a bit tricky, I think it will be useful to write it somewhere.
So Kdenlive can generate proxy clips, that are smaller and lighter representation of currently processed video files. With proxy you can see more (or more complex) video effects in real time. My computer was able to handle 1080p files directly (not in real time – but close enough to be editable), but since I switched to 4k … I was also force to use proxy :).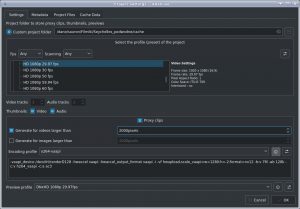 Anyway, proxy usage is straight forward. You can define it on project level, and mark if you want to have auto generated proxies for files with width larger then X pixels (yes, this is width – it's not stated anywhere). Or you can right click mouse on clip, in video list, and check mark "proxy" (this also works for entire folder).
Continue Reading