Akumulatorki Tronic AA z Lidla – fail
Być może ten wpis przyda się Wam jako ostrzeżenie przed zakupem, gdyż cena jest zachęcająca… niestety tylko cena. Do tej pory w Lidlu były dostępne czerwone (z czerwonym paskiem) akumulatorki AA o deklarowanej pojemności 2500 mAh i obecnie, z zielonym paskiem, o pojemności 2300mAh. Oba ogniwa wykonane są w technologi NiMh (niklowo-metalowo-wodorkowej), jednak nowsze są tzw. "ready to use" – czyli tak samo jak popularne akumulatorki Eneloop, produkowane przez Sanyo/Panasonic. Do tej pory kupiłem trzy zestawy Tronic i niestety dopiero za trzecim razem, kiedy kontroler do xboxa podejrzanie szybko się rozładował, przetestowałem ich pojemność.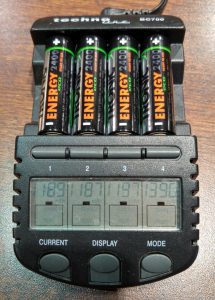 Z czterech ogniw (z dwóch partii, z 2016 i 2015 roku) żadne nie miało deklarowanej pojemności, nawet nie było blisko. Na zdjęciu z boku możecie zobaczyć wynik pomiaru – są to wartości 1189, 1187, 1197, 1390 mAh. Przeprowadziłem testy również starszych ogniw (z czerwonym paskiem) – niestety te również miały pojemność tylko w okolicach 1600 mAh.
Dla przykładu, wspomniane już Eneloopy o pojemności 2000 mAh (i zadeklarowanej, dodatkowo, minimalnej pojemności 1900mAh) wszystkie podczas testów, okazały się spełniać te normy…
Co ciekawe wszystkie trzy typy ogniw maja zbliżona wagę 28 gram – czyli raczej niska pojemność wynika ze słabych materiałów a nie zwykłej oszczędności.
Testy były przeprowadzone ładowarka procesorową BC700, ogniwa zostały w pełni naładowane a pojemność mierzona podczas rozładowywania.